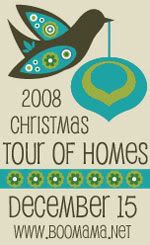 It's finally here and I am so excited!! The Christmas Tour of Homes! I now have my excuse to visit as many blogs as possible and steal as many cute decorating ideas as I can! I LOVE IT! Add to that Kimba's have a party of her own, which means more "touring" HEAVEN for a girl like me:)
We just moved...again! And I have only unearthed about 1/4 of my Christmas decorations. Who knows where that other 3/4 is currently residing! So I am even more excited this year about the thievery of other's ideas:) So without further delay...
Welcome to our home! That darn wreath is crooked and has a mind of its own! I've threatened the trash can or goodwill on numerous occasions if it doesn't straighten up...to no avail it seems!
This is one of my new favorite things! I got the welcome hooks at Target for next to nothing and I just LOVE that basket! It's a great place to put say...christmas balls and a pine sprig?? LOVE IT!
This is the one and only garland that I could locate. It looks a little lonely, but there is hope for finding its companions before Christmas is over:)
I also LOVE these little mercury glass trees. They look so nice on my countertop and they draw your eye nicely away from the mess that surrounds them!
Our kitchen table! I would so LOVE to put those trees on here, along with my pretty Christmas dishes. But a certain 16 month old would surely have it all in the floor in no time if I were to do that so I can only dream of next year!
Our tree. It is a little Charlie Brownesque but I love it just the same. Maybe if I straightened the star that would help?? Hmm...
Another of my favorites....Rudolph was a present from my daddy and he is like a little puzzle! Absolutely adorable. And of course, the mercury glass pail filled with wooden candy canes. You just can't go wrong there.
Our stockings...I miss having a mantle to hang them from. The doorway had to work in a pinch.
My fur wreath...fake of course. I made it with the guidence of
Nester
LOVE her!
Ava Kate's tree. Please ignore the cord. Older houses have very few plugs!